Brandywine Ranked No. 9 in OCBJ Annual Builder List
Mar. 06, 2013
Homebuilders Up 3%, Still Well Shy of Peak Years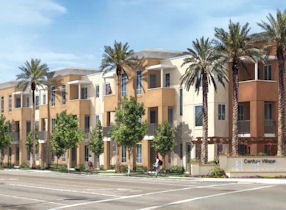 Mark Mueller Sunday, February 24, 2013
The Irvine Ranch continued to be the primary source of sales in Orange County's slowly improving new-home market last year.
The county's 26 largest homebuilders sold 1,822 new single-family homes and condos in 2012, a nearly 3% increase from a year earlier, according to this week's Business Journal list.
Single-family homes sales—which made up about 68% of all the new home sales here in 2012—saw their second straight year of increases. Stand-alone home sales, which totaled 1,240, were up more than 4% from a year ago.
Lower-priced condo and townhouse sales, which had made up a majority of the region's new sales every year between 2006 and 2010, saw their second-straight year of declines.
There were 582 attached home sales here in 2012, a less-than-1% decline from year-ago levels.
Data for this year's list was provided by the Costa Mesa offices of Washington, D.C.-based real estate research firm Hanley Wood LLC, and was augmented by data from individual builders and the Business Journal.
The 3% uptick in sales still left the local industry with its fifth-consecutive year with sales of less than 2,000 new homes. That's less than half the new home sales that OC saw a decade ago amid the last big home construction surge.
New home sales here regularly topped the 10,000 mark in the mid-1990s. As many as 15,000 deals a year was the norm in the late 1980s.
Those totals aren't likely to be topped any time soon, but besting the 2,000-home sale mark appears more than attainable in 2013.
Several new masterplanned projects plan to kick off sales this year, including major developments being overseen by Rancho Mission Viejo LLC and FivePoint Communities Management Inc.
Meanwhile, developments at the Irvine Ranch continue to dominate the local sales market.
Nearly three-quarters of OC's new homes sale took place on the Irvine Ranch last year, which has been California's best-selling masterplanned community for several years running.
Projects on the Irvine Ranch—including Stonegate, Portola Springs, Woodbury and Laguna Altura—reported 1,434 sales last year, according to a recent report from Irvine-based John Burns Real Estate Consulting LLC.
The Irvine Ranch saw an increase of 670 home sales last year, a nearly 88% increase from 2011 levels.
That was the largest year-over-year bump in total sales of any masterplanned project in the country last year, according to the John Burns report.
The Irvine area "continues to be a desired location by buyers in Orange County and abroad," thanks to good schools, a strong job base, and numerous amenities, according to John Burns Consulting's Nicole Murray.
Newport Beach-based Irvine Co.'s in-house building division, Irvine Pacific LP, continues to be a prime beneficiary of the strong sales on the company's land.
Irvine Pacific saw 439 total sales—a 52% year-over-year increase—in 2012, keeping it in the No. 1 spot on the Business Journal's list for the second-straight year.
"Attractive home prices, continued low interest rates, open floor plans that emphasize casual living and indoor-outdoor entertaining, and the opportunity to enjoy the unique lifestyle offered in our masterplanned neighborhoods with world-class schools, safe streets and abundant amenities have made Irvine Pacific homes very attractive to new home buyers," said Tom Veal, Irvine Pacific's vice president of residential sales and marketing.
Irvine Pacific was one of 11 builders on this week's list that posted yearly increases in sales. Nine builders marked decreases, and six were new entries to the list.
The 26 companies on this week's list combined for a 16.4% increase in 2012 sales, compared to their own 2011 results.
Other builders with notable jumps in sales included Aliso Viejo-based New Home Co., which took the No. 6 spot in the list with 94 local sales, primarily at its Lambert Ranch development along Portola Avenue in Irvine.
The 50-acre project, one of OC's highest-end developments in years, has brought in close to $100 million in sales since its opening last year.
Builders' sales in this week's list are ranked by homes closed, not just those under contract. New Home Co. likely would have placed a few spots higher in the list if homes under contract had been included.
Projects in Garden Grove, Brea and Huntington Beach helped place a few builders in the top 10 of this week's list.
Irvine-based Brandywine Homes took the No. 9 spot in the list with 68 sales, many of them from its Century Village townhome project in Garden Grove.
The 53-unit development is effectively sold out now, despite construction that is still ongoing, officials said earlier this month.
The three-story townhomes at Century Village sold at a rate of about four homes per month, which is "a little faster than average—more like prerecession levels," said Brandywine Vice President Dave Barisic.
Sales at Huntington Beach's Pacific Shores project, located a few blocks from the ocean, helped vault Newport Beach-based Christopher Homes to the No. 8 spot in the list.
The 201-home Pacific Shores project saw 70 sales last year, according to Hanley Wood data. Christopher Homes bought the 23-acre development site from now-defunct builder John Laing Homes in mid-2010 for a reported $45 million.
Continued sales at Brea's Blackstone development—the 800-acre project in the hills between Brea and Fullerton that's expected to hold almost 360 homes—helped drive sales for that project's two partners, Irvine-based Standard Pacific Corp. and Walnut-based Shea Homes.
Shea kept the No. 2 spot on this year's list with 176 sales, a slight increase from year-ago levels.
Standard Pacific took the No. 4 spot in the list with 101 sales in OC last year. Along with Brea, it is currently selling homes in Irvine and Buena Park.